Compass hosts 2-3 social events each month!
We have special events for all ages, events specifically for 6th-12th grade students, as well as 1-2 events each semester just for our adult students.
Click the icon to visit our Compass IFC Facebook Page for current social event information, or scroll down to find more information by month!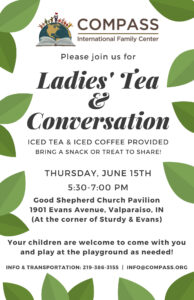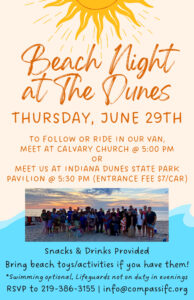 Ladies' Tea Event at Good Shepherd Pavilion
Thursday, June 15th, 5:30-7:00pm
Join us for a tea & conversation! Children are welcome to attend with you and play at the playground as needed.
Compass Beach Night at Indiana Dunes State Park
Thursday, June 29th, 5:30-7:30pm
Join us for an evening at The Dunes National Lakeshore! We will bring some snacks & waters and provide transportation for a group evening at the beach. A parent/guardian will need to attend with any students 5th grade or younger.
Adult Conversation Night & Ice Cream Sandwiches at Kirchoff Park!
Thursday, July 13th, 5:30-7:00pm
Join us for a time of conversation & ice cream at Kirchoff Park in Valparaiso! Children are welcome to attend with you and play at the park as needed.
Family Farm Day @ First Fruits Gives
Thursday Morning, July 27th, 10:00am - 12:00pm
Join us to play with farm animals and pick some vegetables at a local farm & ministry site!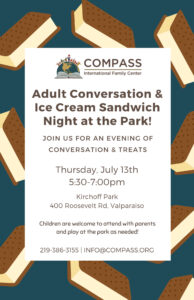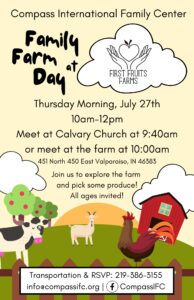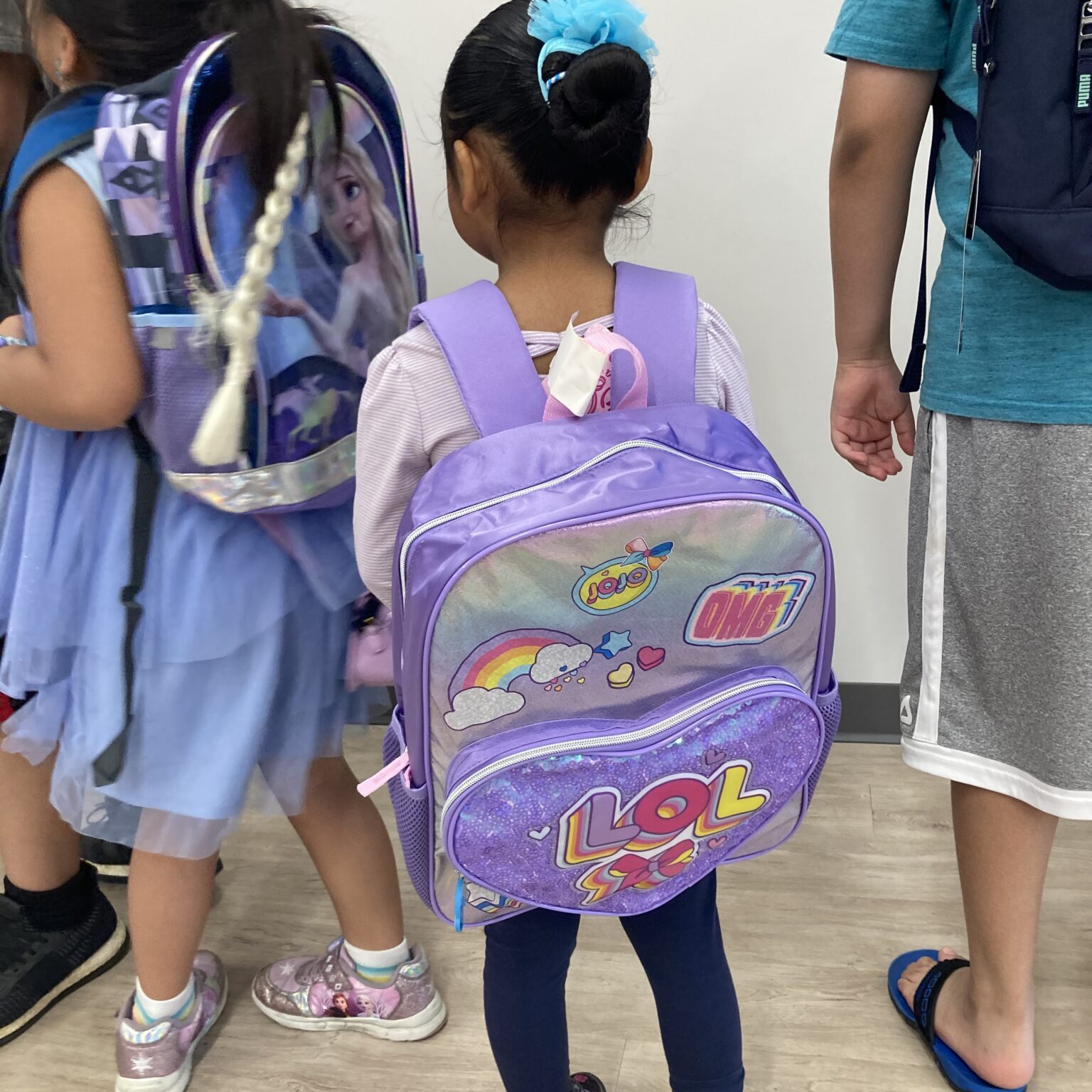 Compass Back-to-School Supplies Night
Thursday, August 10th, 6:00-7:00pm
Each Summer, before the start of school, we host a night where Compass families can come to pick out free school supplies & a new backpack for their student(s)!
Compass Kick-Off Party
Thursday, September 7th, 5:30-7:30pm
Before the start of a new year of Compass Programming, we gather to celebrate and welcome our new & returning students! Join us for a cookout, bounce house, and outdoor games!
2023 World Cultural Festival
Sunday, September 17th, 12-5pm
Join the community of Valparaiso in the downtown area at the 2023 World Cultural Festival! Compass will have a booth where you can stop by to say hello! This event is hosted by the Valparaiso International Center, and more information can be found at their website: VIC World Cultural Festival 2023
Youth Event: Zao Island
Our 6th-12th Grade students are invited to join us at Zao Island!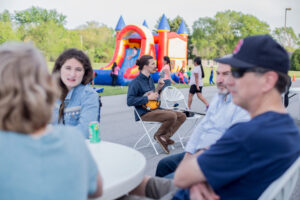 Fall Family Event at First Fruits Farms
Join us at First Fruits Farms for a Fall hayride, to pick pumpkins and to Trick-or-Treat! Dinner will also be served.
Coffee & Conversation Evening (Adult Event, Childcare Provided)
Please join us for an evening of coffee, cookies, and conversation time!
Annual Compass Thanksgiving Event
Our favorite event of the year is our Thanksgiving Event! During this time we come together as a Compass Family and talk about all of the blessings from the past year! We also invite our Compass students & families to bring their favorite dish to share from their home country. This is a beautiful evening together that you don't want to miss!
Compass Christmas Party
Our Christmas Event includes presents for our K-12 students, cookie decorating, pinatas, as well as food, conversation, and music for our adult students!