Compass hosts 2-3 social events each month!
We have special events for all ages, events specifically for 6th-12th grade students, as well as 1-2 events each semester just for our adult students.
Click the icon to visit our Compass IFC Facebook Page for current social event information, or scroll down to find more information by month!
Youth Event: VU Football Game
Saturday, November 5th, 1:00pm
Our 6th-12th Grade students are invited to join us at a VU Football game. Tickets & snacks provided!
Annual Compass Thanksgiving Event
Thursday, November 10th, 6:00pm
Our favorite event of the year is our Thanksgiving Event! During this time we come together as a Compass Family and talk about all of the blessings from the past year! We also invite our Compass students & families to bring their favorite dish to share from their home country. This is a beautiful evening together that you don't want to miss!
Ladies' Event: Christmas Cookies @ Tonia's (Morning Event)
Thursday, December 1st, 10am-12pm
We will host a morning of conversation time, coffee, and Christmas cookies!
Compass Christmas Party
Thursday, December 8th, 5:30-7:30pm
Our Christmas Event includes presents for our K-12 students, cookie decorating, pinatas, as well as food, conversation, and music for our adult students!
Family Movie Night
Thursday, January 19th
January is a great time to have an indoor event, so we host a movie night on the big screen at Calvary!
Youth Event: VU Basketball Game
Thursday, January 26th
Our 6th-12th Grade students are invited to join us for a Valparaiso University Basketball Game! Transportation, Tickets & Snacks provided.
Compass Sweets Night
Thursday, February 9th
This is a really fun event for our Compass students & families during which we serve a variety of sweet treats! Cupcakes, cookies, candy etc.! We also hand out class valentines for our students to give out at school.
Youth Event: Ice Skating at Central Park Plaza
Thursday, February 23rd
Our 6th-12th Grade students are invited to join us for Ice Skating in downtown Valparaiso! Transportation, Skate Rental, snacks, and all costs provided!
Family Day at Fireflies
Thursday, March 9th
March is a month for more fun indoor activities! Fireflies is an indoor play area & arcade for kids. Guardians and children are invited to join us for a day of play!
Youth Event: Bowling Night at Inman's
Thursday, March 23rd
Our 6th-12th Grade students are invited to join us for an evening of bowling! All costs are covered.
Compass Spring Fiesta
Thursday, April 13th
Join us for a fiesta that includes dinner, a performance from the Gloria Dei Folkloric Dance Troupe, and an Easter Egg Hunt for the kids!
Pick-Up Soccer & Pizza Night
Thursday, April 27th
Join us for a fun & casual game of soccer! Come to play, or to cheer and enjoy some pizza!
Women's Event: Ladies' Tea Party at Tonia's
Thursday Morning, May 4th
Join us for tea & conversation at Tonia's house!
End-of-Year Celebration
Thursday, May 18th
In May we celebrate the end of the school-year for our K-12 Compass students as well as a year of hard work for our Adult English & Citizenship students!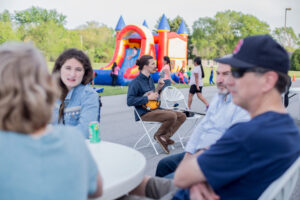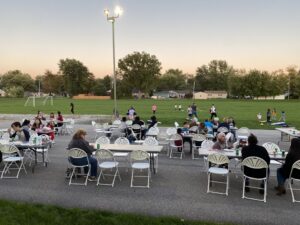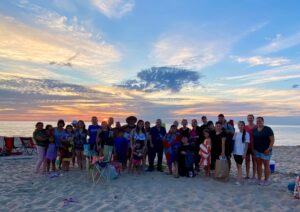 Summer Kick-Off Soccer Game & Cookout
Join us for a fun & casual soccer game and a cookout to kick-off our Compass Summer Programming!
Beach Night @ The Dunes
Join us for an evening at The Dunes National Lakeshore! We will bring some snacks & waters and provide transportation for a group evening at the beach. A parent/guardian will need to attend with any students 5th grade or younger.
Farm Day @ First Fruits Gives
Join us to play with farm animals and pick some vegetables at a local farm & ministry site!
Compass Back-to-School Supplies Night
Each Summer, before the start of school, we host a night where Compass families can come to pick out free school supplies & a new backpack for their student(s)!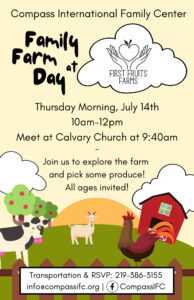 No Compass Programming or Events!
Enjoy the end of summer & the beginning of a new school year!
Compass Kick-Off Party
Thursday, September 8th, 5:30-7:30pm
Before the start of a new year of Compass Programming, we gather to celebrate and welcome our new & returning students! Join us for a cookout, bounce house, and outdoor games!
2022 World Cultural Festival
Sunday, September 18th, 12-5pm
Join the community of Valparaiso in the downtown area at the 2022 World Cultural Festival! Compass will have a booth where you can stop by to say hello! This event is hosted by the Valparaiso International Center, and more information can be found at their website: VIC World Cultural Festival 2022
Youth Event: Zao Island
Friday, September 30th, 5:30-7:30pm
Our 6th-12th Grade students are invited to join us at Zao Island!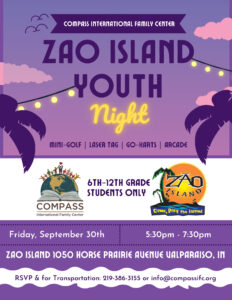 Coffee & Conversation Evening (Adult Event, Childcare Provided)
Thursday, October 6th, 5:30-7:00pm
Please join us for an evening of coffee, cookies, and conversation time!
Fall Family Event at First Fruits Farms
Thursday, October 13th, 5:00-7:00pm
Join us at First Fruits Farms for a Fall hayride, to pick pumpkins and to Trick-or-Treat! Dinner will also be served.