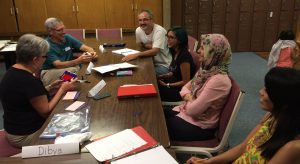 A recent survey on the needs of Porter County revealed that one in ten families in our area speak a language other than English at home. We know that an ability to speak English is crucial to finding employment, and connecting neighbors to one another, so we want to help!
Compass currently offers six different Adult English classes. We have four different levels offered during our Tuesday and Thursday Compass evenings, and two different levels offered during our daytime classes. All of our teachers are trained and supported by experts in the field of Teaching English to Speakers of Other Languages (TESOL). Some of our teachers also bring their own Master's Degree in TESOL and decades of experience!
Most important of all, you'll find our teachers to be dedicated to helping participants be successful in their endeavor to master the English language and adapt our culture in the United States and Northwest Indiana. All of our classes are free of charge, and include childcare. We provide transportation on our own bus during Compass evenings, and encourage participants to use the VLine to attend our daytime classes. Please join us!