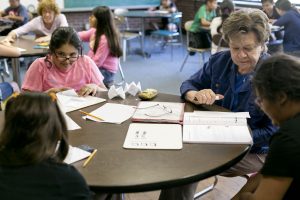 Welcome to our country, our community, and our program! It is our great hope that in time you will consider Northwest Indiana home. Our desire is to help you navigate your new surroundings, and establish a thriving life for yourself and those you love.
On our site, you will have the opportunity to learn about our many free programs. In an effort to create a strong community, one very special aspect of Compass is that all of our evening programming meets at the same place, at the same time, and on the same nights! This means that if you are a parent, both you and your children can come to Compass together, learn in your specific areas of need, and then meet up to travel home in your vehicle or on our bus. We also offer two levels of Adult English and childcare during the daytime.
We hope you will take the time to get to know us and join in our growing community of learners. You will be warmly welcomed by our experienced Compass volunteers and fellow newcomers. Please look at our calendar, and come as often as you are able!