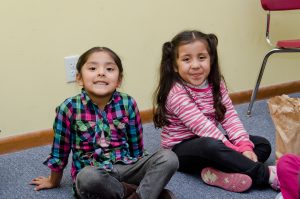 Since 2007, we have been generously supported entirely by local churches, faith-based organizations, individuals, and local organizations. It has always been our ambition to be a place where neighbors are helping neighbors. Not only is this happening through the many local community members who volunteer their time year after year, but also through those who fund us.
We are creatively frugal with every dollar entrusted to us, and have almost zero overhead costs. That means that when you entrust your hard earned dollars to us, you can rest assured that those funds are being used to directly benefit our families. Many of our families arrive with very little. Your generosity with your time and financial resources allows us to offer our program free of charge, making it accessible to any family in need.
Thank you for being a partner with us and taking a neighbor in need by the hand!
Gloria Dei Hispanic Mission
Northwest Indiana Lutheran Hispanic Mission Society
Calvary Church, Valparaiso
Liberty Bible Church, Chesterton
Trinity Lutheran Church, Crown Point
Educational Helpers
Lutheran Women's Missionary League, Indiana District
Redeemer Lutheran, Highland
Lutheran Church Missouri Synod
Bethel Church, Crown Point
Rebekah Douglas Photography
Liz Bradley Photography
Valparaiso YMCA
Thrivent Financial
Kiwanis International
Rotary International
Porter County Community Foundation
Saint Paul's Lutheran, Munster
Faith Memorial Lutheran, Valparaiso
Prima Bella Women's Health
Valparaiso University (S.A.L.T., L.I.V.E., Club Educate, Greek Life)