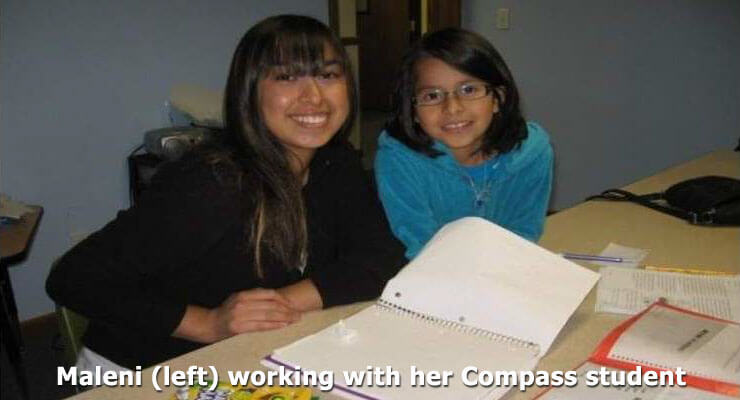 I have amazing parents, who wanted me to do well in school. Early on in my school days, they consistently tried to help me do my best on my homework and support my efforts. However, as I became older, and the work became harder, the fact that English was a new language for my parents made it difficult for them to give me the help I needed. Thanks to dedicated teachers and my parents' efforts, my twin sister, Jessica, and I managed to do alright in school, however, it was with much straining. When we reached middle school Gloria Dei Hispanic Mission formed a tutoring program to help children of parents with limited English proficiency. Jessica and I were two of ten students participating with a few volunteer tutors. Getting to go to tutoring on Tuesdays and Thursdays was an important support for me. It gave me an opportunity to ask questions and learn from dedicated volunteers who speak English and wanted to see me excel.
Five years later, I graduated from Valparaiso High School with great grades, and am now studying to become a Social Worker at Valparaiso University with a minor in Spanish. My sister, Jessica, is studying Pre-Med at University of Indianapolis. We are the first two graduates from Compass, and will be the first two members of our family to graduate college! I can say that the support the tutoring program provided us was instrumental in our ability to reach this level of higher education. When the program first began, there were only ten of us. As time passed, more Hispanic families moved to the community and the preschool-aged children began attending school, so the number of children that attended grew. Parents also began attending to learn English so they could better help their children themselves.
Now, as a V.U. student, for the past three years, I have gone back as a volunteer to help children who need help like I did. As a tutor, I am able to see the positive outcome this program provided for the children with new eyes. I can see how troubling it was for some of the children who have just started school in a new country. I try to help them understand that although it was hard at first, with determination and practice they could master the language of a new country. It is nice to see how some of the children begin being really shy and reserved to becoming enthusiastically involved and fluent kids, loving school. Many of the children that come to this program can't speak English and have parents at home who did not either. It was a blessing to be able to use my gift of speaking Spanish and share my story of all that I've overcome to help and encourage younger children to work hard and dream big. I'm so thankful for all those who invested in me, and I love that I get to invest in others.
Now, Compass is more than just for kids. It's a whole family night- one that my whole family participates in. My dad connects families to Compass as the Pastor of Gloria Dei. My mom has already completed the Citizenship class and passed the test to become a citizen! She now takes Compass' English classes with the adults. My baby sister goes to the preschool, and my other three siblings attend tutoring. As a high school student, my one sister also has begun giving back by helping with the babies. It truly is an education night for the whole family, and a blessing to many. I hope that Compass continues to serve international families in Valparaiso, as they are changing lives for the better.